Well, we've made it to August, congratulations! It has been a rather unique year so far for everyone and we hope that all is as well as it can be for you and yours.
Here in Florida, the heat has been steady and unrelenting but hey, it's summer in Florida. Cooking sometimes takes a back burner at this time of year as we seek to do as little as possible in the kitchen. Cool dinners are on the menu for many folks.
Thinking along these lines, VSpicery is having a sale on our Bellindora vinegars from Tuesday, August 4th through the 15th. Get 20% off of these lovely vinegars to enliven your salad offerings. Also, we are giving you our four favorite salad and salad dressing recipes. If you choose, any of these recipes can easily accommodate the addition of seafood or chicken. Ingredient amounts for the salads are subject to the size of the salad you are preparing. Click on any or all of the salads below to view the recipes.
Jicama Salad
Italian Inspired Salad
Green Apple and Cheddar Salad
Beet and Arugula Salad
Rub-a-Dub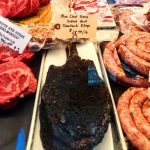 If it's too hot or rainy to grill outside, then bring the flavor of the grill indoors. You can get super tasty ribs from your oven using our 15th & 5th Rib Rub. Go low and slow. Pork chops on the menu? Then you gotta use Soulful Seasons. Twenty minutes in a 425 oven and you are a hero. An iron skillet, a good cut of steak and our Moo Char Gusto will give you a true grilled flavor.
For bodacious burgers we have several wonderful options, but have you tried our Roasted Garlic Champagne Mustard? There are condiments and then, there are condiments … This one is a condiment the you won't want to miss. It is so tasty that you may just want to eat it with a spoon, and have a sandwich on the side.
Are you an avocado lover? Have you tried our Meyer Lemon Oil and Alderwood Smoked Salt on chunked up avocado? If not, you're missing major deliciousness.
We have so many options to keep your kitchen producing fabulous meals and we haven't even started talking about all those individual spices that we lovingly carry that are used to create our excellent blends.
We notice so many of you are cooking up a storm these days and from what we are seeing it looks amazing! Please share your photos with us. By tagging us and mentioning one of our blends in your post, you will receive 20% off that item if you repurchase by September 1st. We are super excited to check out your culinary creativity!